Requirements
Basic Requirements
1. Age: At least 21 years old.
2. Education: At least a Bachelor of Arts or Science Degree.
3. Passport: Valid passport.
4. English Level: Native
Preferences

1. Experience
We prefer candidates who have worked with children in some capacity, the best being classroom instruction. We are also interested in experience working with children in a formal program of sports coaching, camp counseling, volunteering with community groups or day care, and we would like to read any letters of recommendation received from employers or supervisors.

2. Background
College B.A. or B.S. degree or another liberal arts degree, with some language arts, teacher training or foreign language study. We will also consider a different academic background such as science or history if the candidate also has solid experience working with children, as stated above.

3. Any musical or performing talent is a plus.
Being an emcee at our school events and parties is part of our work. Please indicate any experience you have had in public speaking, drama or public performance.

Visa
To secure a work visa for the teacher from the Japanese government, the school will act as a sponsor and must submit the following: A copy of the teacher's college diploma,Official college transcript(s) (these must be original forms, not copies), A copy of the teacher's passport photo page, along with two additional passport-style photos.
Salary
The base salary for a Native English Teaching position is 250,000 yen/month. Candidates with considerable teaching experience may be given a higher starting salary.
Income tax
National income tax deduction is approximately 4%. The school will assist in filling a tax return form.
Working Schedule
Teachers work 35 hours a week, five days a week. Each teacher is responsible for 27 classes over the course of the week (50 minutes per class), including baby classes (1-3 years old), pre-school, elementary, junior and senior high school students, and adult classes. There will be a Japanese co-teacher in the room for baby, pre-school, elementary and junior high school classes. The maximum class size is ten students.
Vacation and Days Off
The school is closed from December 23 to January 05, and April 29 to May 05, these are paid vacation periods as specified in the employment contract.
National holidays and substitute days off are stipulated in the contract.
Housing
The school has single-occupancy studio apartments available for the teachers. Housing costs, insurance and other deductions are shown in the contract as part of the application process.
Former teachers


After three years at Mike's, it was very hard to leave. The students, staff, and city were all amazing! Unlike your typical English school in Japan, you get a variety of ages and English levels.
While children's lessons can be physically draining, and adult lessons can be mentally draining, at Mike's, you get a balance of the two.
In addition to teaching in a school setting, I was a soccer coach. This added even more variety, as I got to spend the first half of my Sunday outdoors.
When I started at Mike's, I got an immediate feeling of family; not only from the staff, but from the students. Everyone is very nice, and contrary to popular belief, the Japanese students love to joke around and have fun, especially after a long day/week at the office.
Mike's is a great little piece of Americana, in Tokyo. It offers a great environment to grow as a teacher, as well as making you feel as if you never left home!
Working at Mike's will bring you memories and friends that will last a lifetime. Channing Rapnicki July 31, 2014

Japan is a really interesting country with a lot of exciting things to do. The students at Mike's English School are really kind and very generous. The staff is great and very helpful. Mike's English School is good at hiring wonderful employees.
The management should have more respect for their employees and also treat them fairly and equally (Native and Japanese). The management should watch as to not offend their employees. Don't force teachers to live in Seiseki and an apartment they are not happy with. Changing these things will make the teachers happier, which will also benefit the students.
April Callis July 31, 2008

Tokyo is extremely fun and easy to live in. Teaching at Mike's has mostly been a wonderful experience for me. The adult students are kind, thoughtful and interesting, and the kids are adorable. I also feel very lucky to have had the opportunity to work with such great people. The people who run Mike's on a day-to-day basis are hard-working, talented and helpful.
To be honest, I sometimes feel that Mike's staff forgets the importance of love, dream and smile. Obviously, these three things form the cornerstone of Mike's teaching philosophy, and I think that it would be worthwhile to review these three concepts each week during the staff meeting. Also, to make sure that the staff is correctly pronouncing the phonemes that we use in kid's classes, I recommend continuing to review them with the pronunciation practice video during the staff meetings. In fact, in my expert opinion, practicing the phonemes once a month simply
is not enough to ensure proper pronunciation. The practice sessions should be increased to once a week, at the very least.
Cord Jonson July 31, 2008

Living in Japan has been wonderful and enriching experience. You will find that the spirit of generosity is a national trait. This openess is something our students posess an immeasurable amount of. Both the children and the adult students bring an eagerness and honesty to the classroom that makes teaching them a truly rewarding experience. Like any other experience in life, coming to Japan should be done with an open heart and open mind; and like anything else it is what you make of it.
Much of my own sentiments have already been echoed by other teachers, but I would like to address one issue. Throughout the year, but most especially during the winter season colds and other viruses are endemic amongst the staff. A few sanitary measures could easily cutdown on the amount of time we all spend being sick. For example the towels in the bathroom that are used all day be students and staff are by far the most unsanitary thing imaginable. Also they toys and game should be regularly sterilized or replaced. As with all things in life, a little bit of effort would go a long way.
Kimberly Headley July 31, 2008

The students at Mike's are really great. It's nice being able to have a wide variety of classes. Interaction with a variety of students is really beneficial to experiencing Japan and learning things about Tokyo that might otherwise be hard to find out on your own. Since Mike's is a small school, it's possible to develop a good relationship with the students and get to know them as individuals and see them improve and develop over time. It's very rewarding to see the babies and preschool kids grow up and develop over the course of the year.
Staff should be treated more fairly. Workload and scheduling should be distributed as evenly and fairly as possible, and management should be more fair and flexible with employees taking time off. Staff are expected to be flexible, so I think management should be more flexible as well. Also, I think it would be reasonable to give all workers a few personal days that they can decide when to take, within reason. Staff shouldn't be
required or expected to live in Seiseki. Support for setting up for a new life at Mike's could be more comprehensive. The school would also do well to get more and newer supplies, especially for baby classes. All of the teachers also have their own strong and weak points, so I think these could be discussed at the weekly meetings to keep our teaching styles consistent.
Alexis Leschinsky July 31, 2008

Living and working in Japan is a great experience. It's great to get close and personal with another culture, especially one that is pretty different from the one we're use to. You may find that there are different rules and expectations, but you will also find that people here are kind, generous, and helpful. Keep an open mind, enjoy the sights, enjoy the food, and make new friends.
A shortage of teaching supplies, such as pens and white board erasers causes inconvenience for the teachers. ALL workers should be compensated for overtime.
Eglys Perez July 31, 2008

Working at Mike's has been an interesting experience. I have sincerely enjoyed the adult students and I find it delightful working with them. They are personable and friendly and have taught me a lot about Japan and it's customs.
On a personal note, I suggest you join TIC Tama International Center. I was involved with Flower Arranging, Japanese Language Class and I spoke about Canada to a small group at TIC. (top floor of Opa) Also I took art classes from the Culture Center at the 7th floor of Keio Dept. Store. They offer a variety of lessons. I found it worth my while to be involved in these activities outside of school. Also, Tokyo has many art gallaries, museums and concerts. I tried to attend something at least twice a month.
Good luck. I hope you enjoy your experience in Japan.
Yours truly,
Marj Peltier July 21, 2004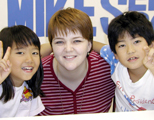 To the next teachers--I would like to tell you that working at Mike's is an interesting experience. As with any company, there are good and bad things. The best thing is definitely your peers--the other teachers. Terena is also nice and gentle and real. Recently, we've become good friends. I've also really enjoyed the Japanese staff. Toru is so facially expressive--it's fun for the students and me to watch. Reiko is easy to teach with and talk to--I'll miss her. Masaharu is great at games and keeping the kids happy. Midori has excellent ideas and lesson plans--we've always had excellent classes. I wish you all the best of luck. Make the most of your experience in Japan.
Allyson Kellum July 31, 2003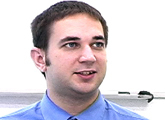 Welcome to Japan and Mike's English School. I had a great time teaching English in Japan, and I'm sure you can too, as long as you keep an open mind and an easy-going attitude. You'll definitely feel a bit of culture shock when you arrive here, but don't worry about it too much. As long as you follow the same rules of politeness as you did back home, you shouldn't run into many problems here. As for Mike's English School, it's a decent place. Here you're much better off than those English teachers at the big chain English schools like ・・or・・. Of course Mike's has a few problems, like any workplace does, especially since the working culture here is MUCH different from back home. For instance, taking sick days is frowned upon to the point that you're expected to come to work even if you're sick and contagious. But once you've been here a while, you'll quickly figure out how things work and what to expect, and as long as you don't let the cultural differences get to you, you should be able to enjoy your year or more here. As for myself, I don't regret working here. If you have any questions for me, feel free to contact me at mark_driedger@hotmail.com wish you the best of luck.
Mark Dried July 30, 2004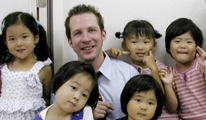 Dear New Teacher,
Welcome to Japan and Mike's. I'm sorry I won't have a chance to meet you.
Let's see...I've been here five years, so I have a little advice. First of all, just be patient with the students and realize that your compliments can go a long way. A lot of them are very insecure about their English so find something (anything!) to say good things about. Just try to keep everyone involved and create a warm atmosphere.
Some good things about Mike's--when you are done here you will have a lot of experience with all ages of kids and understand them a lot better. Also, I'm sure you will really bond with your fellow foreign teachers. The adult students (many of them) are really kind and you can learn a lot from them about Japan.
Also, Seiseki is a great place. There is nature, mountains, green and it is clean and modern. Working only 35 hours has its benefits, too. Lots of free time to do stuff you want to do.
And that's it. I don't really know what else they expect me to say. Just have fun and make the most our of being here. It's not perfect but what place is? See you around, possibly.
Sincerely,
Matthew Peipert July 31, 2004

My experience at Mike's English School was unquestionably a positive one.
It gave me the opportunity to see and feel a culture completely
unique to my own, and the school's location is conveniently just
outside of one of the most exciting cities in the world.
The staff at Mike's are, for the most part, very friendly and helpful. And the teachers feel free to share a great deal of laughter together.
I hope the replacement will enjoy his or her experience.
Love,
Steve DeRoo July 31, 2003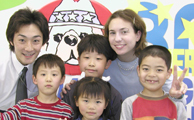 I came to Mike`s English School straight out of college. It was my first real working experience.
I`m so glad I chose this school because I feel that I've really grown a lot because of it.
One thing that I think is really hard to find anywhere, but that I've miraculously found here is a staff that gets along well. Everyone is unique with different opinions, but we all have a great time together whether at work or play. I feel very lucky in this respect.
The Japanese work ethic is very different from the one in America. It takes some getting used to.
You have to work hard, but make a good salary and have lots of free time.
At this school, I've taught people from ages 1 to 81 and met a wide variety of people. I've learned so much about Japanese culture through my students.
Japanese people are incredibly generous. I can't count all of the gifts, cards, and acts of generosity I've received since living in this country.
Another wonderful thing about Japan is the convenience. I pay all of my bills at convenience stores and can travel all over the country by train.
The location of Mike`s English School is a great one.
It takes about 20 minutes by train to downtown Tokyo.
The station next to Mike's is by no means small however. I spend a lot of my free time here. There are shopping malls, restaurants, and a nice river all near the station.
I'm going to America to try something new. If I were to stay in Japan, however, I would stay right here. I've met friends that I'll keep forever, and have memories that will last a lifetime.
Erin East July 31, 2003